The Protester – literary review!
Whilst the albums concept was very much shaped around the Arab Spring uprising and the protesting, the books in the photo below were also consumed in the making of this album….
If you like an apocalyptic novel definitely check out – Z for Zachariah (currently being turned into a film in Hollywood), Alas Babylon and The Death of Grass. Right I'm off to read a bit more of The Stand, I still havent got through it 1200 pages, it's enormous!!!!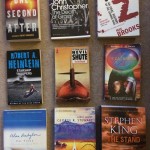 x
in